In March 2011 we held our first Cheque Presentation Evening. Seven local groups were invited to the informal event which ended with a buffet meal at our regular venue, The Britannia Inn in Queniborough: East Goscote Girls Brigade, Queniborough Scout Group, Syston Boys Brigade, Thurmaston Lavender Social Group, Syston Friendship Club, Birstall Pre School Special Needs Playgroup and Birstall Youth Cafe.
At our second presentation evening in July 2012 local groups supported included: Thurmaston Boxing Club, Thurmaston Scout Group and Thurmaston Brownies, together with Birstall ATC, Birstall United Juniors FC, trhe local Salvation Army and Birstall Community College FC.
Our third presentation evening was in March 2013 when we supported: East Goscote Boys Brigads, Intercare, DEBRA, Birchaven Horse Therapy Centre, British Heart Foundation, Thurmaston Scout Band, Carpenters Arms, Salvation Army, Warning Zone and the Baldwyn Trust.
In March 2014 we supported many local charities and groups including: Syston Scout Group, Thurmaston Scout Band, Birstall Riverside School PTA, Wishes for Kids, Asda Thurmaston's local charity and the Bark Foundation.
The more recent evenings have included a £3,000 donation to the Rothley based Duchennes Muyscular Dystrophy charity, Alex's Wish. Our new Syston Rotary Club has donated £1,000 to Soar Valley Music Centre as a result of their Beer Festival in September 2016.
The groups were presented with cheques from monies raised by regular fundraising efforts, such as our Christmas Santa Sleigh and annual Watermead Challenge charity run and Real Ale Festival. It is our way of thanking these groups for what they all do in their own way for the local community and to help them with their future programme of events. Please contact us via this website if you know of any local individuals or groups we may be able to help.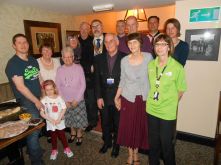 .